OUR SERVICES –  Microneedling & Chemical Peels
Complexion complaints
Why They Happen
Skin changes over time, producing less sebum, collagen, and elastin. Cellular turnover slows, causing dead skin cells to build. Hormone fluctuations lead to the overproduction of melanin, forming hyperpigmented skin. Repetitive sun exposure prematurely damages the skin and underlying tissues by producing reactive oxygen molecules that trigger collagen breakdown and inhibit new collagen formation. The result is dull skin with fine lines, dimples, and sunspots. What you can do — skin surface treatments.
How Microneedling works
Wound Healing Response
Microneedling creates thousands of "micro" skin punctures per second to stimulate the skin's natural wound healing process – inflammation, proliferation, and remodeling. Research proves an increase in collagen type I and III after microneedling treatments and improvement in acne scars, discolorations, dullness, and fine lines. At Aluma, we use SkinPen, the first FDA-approved microneedling device in the United States. Additionally, PRF, the next-generation PRP, can be added to your treatment for an enhanced PRP microneedling treatment.
How Chemical Peels Work
Cellular Turnover
Chemical peels are a standard resurfacing procedure with the advantages of price point, quickness, and therapeutic flexibility. Chemical peels injure the epidermis to promote the wound healing response and amplify cellular turnover using alpha hydroxy acids, glycolic, phytic, lactic, and salicylic acids as catalysts. Light to medium depth peels are great for improving acne, brightening discolorations, and evening skin texture and color. At Aluma, we see value in alternating chemical peels with microneedling to target skin texture complaints comprehensively.
 Microneedling before and after
Treatment Photos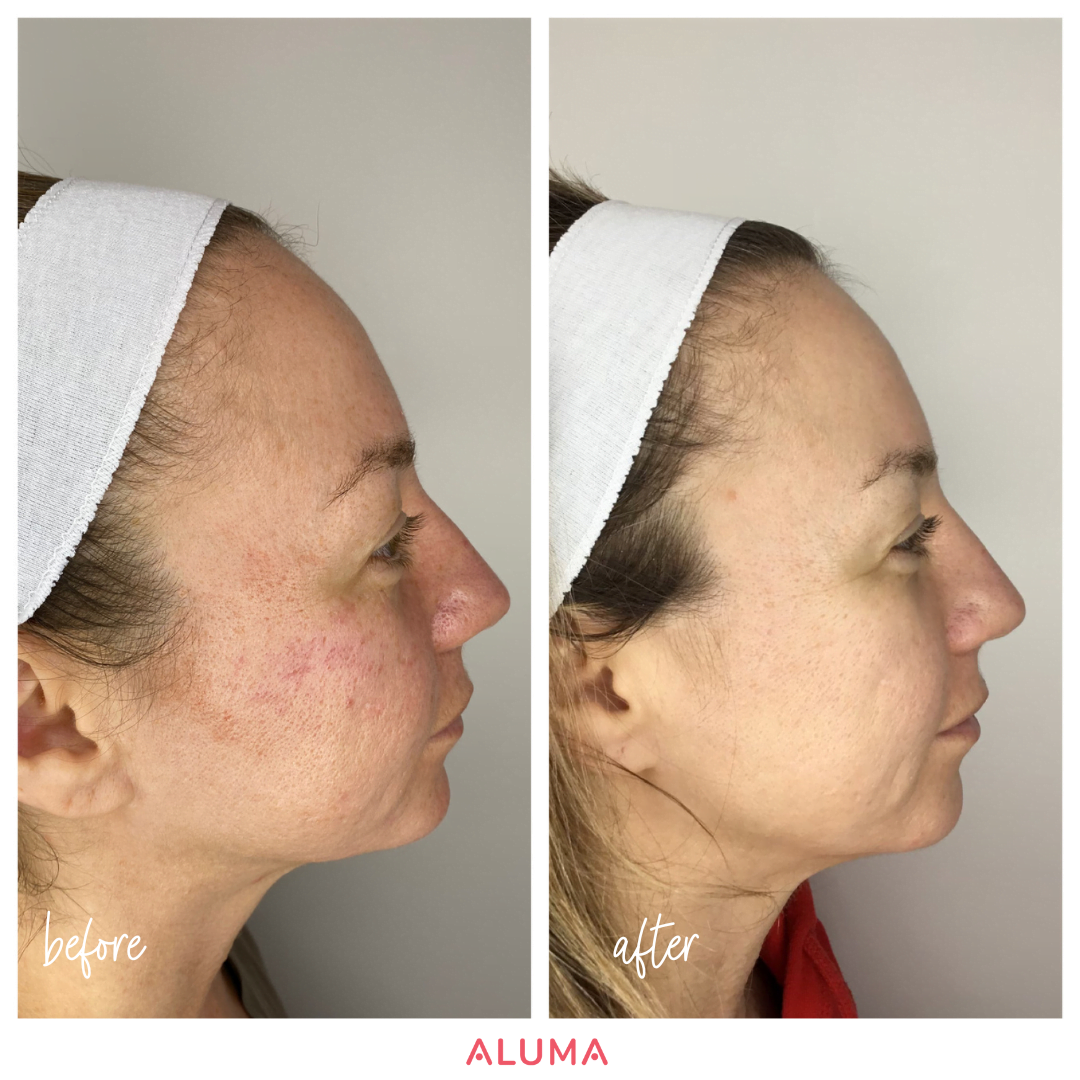 What makes the SkinPen microneedling device better than others?
The SkinPen high RPM rating that allows for 7,000 micro-punctures per minute. The puncture intensity is validated for depths ranging from .5mm to 2.5mm. In addition, the medical-grade stainless steel microneedles are guaranteed to remain sharp for 80-minute intervals, longer than necessary for your treatment. 
How much does microneedling cost?
At Aluma, clients can add a blood concentrate therapy, Platelet Rich Fibrin, to their microneedling treatment. PRF harnesses growth factors for regeneration and amplified results. 
PRF Microneedling is $400. Without PRF, the treatment cost is $330.  Décolletage is a $75 additional cost. 
Microneedling, is it painful?
Before your treatment, we apply a prescription compounded lidocaine cream in which you will feel little discomfort during your treatment. 
Is microneedling safe?
Yes. SkinPen's patented – and single-use – sterile microneedle cartridge is built with safety in mind. SkinPen is also surrounded by a custom-designed bio-sheath that acts as a barrier to prevent cross-contamination between procedures. 
What is the downtime for a microneedling treatment?
After your microneedling treatment, your skin will be mildly red, signifying the inflammatory response we want to see for optimal results. This redness will subside within 24 hours. In the following days, your skin may lightly flake or peel. You will notice a nice overall glow around day five. 
Which is better, chemical peel versus microneedling?
Depending on your aesthetic goals, skin type, and current skin texture condition, one treatment may be better for your needs. Some clients find alternating chemical peels with microneedling sessions optimal. If you need assistance, booking a peel or facial with our clinical esthetician is a great way to start.
What active ingredients are in chemical peels?
At Aluma, we use Skinmedica's chemical peels from the makers of Botox. The active ingredients include newer generation AHA acids (mandelic and malic) combined with phytic acid, salicylic, and resorcinol.
Are chemical peels safe?
Superficial, or light, chemical peels are typically safe for all Fitzpatrick types. Medium to deep chemical peels can be contraindicated for specific skin phototypes. 
What is the downtime for a chemical peel?
Superficial chemical peels have little to no downtime and often offer the benefits of a chemical peel without peeling. However, some may experience light flaking.
The Latest on Skin Surface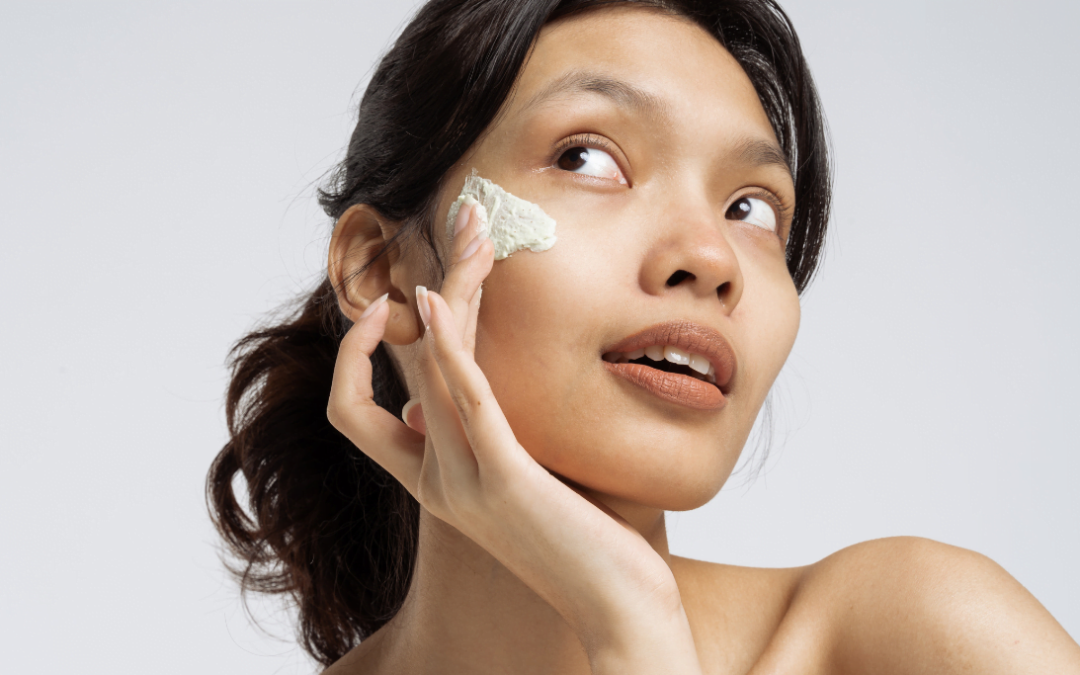 Retinol, Retin-A, Tretinoin, and the benefits of adding these products to your skincare regimen to reduce wrinkles, decrease acne, lighten discolorations, and foster collagen and elastin production.
Ready to Book
We cannot wait to welcome you in!