Sculptra aesthetic
Why Sculptra Works
Sculptra stimulates collagen production via poly-L-lactic acid (PLLA). This biocompatible, biodegradable polymer restores the underlying skin structure to diminish nasolabial folds, tighten skin, and add facial volume where needed. Over time, as the PLLA microparticles are absorbed, the production of collagen type 1 and 3 and elastin increases. In clinical studies, 100% of patients showed facial improvement for up to two years, noting an overall refreshed appearance.  
Sculptra Injections
What to Expect
Sculptra, poly-L-lactic acid (PLLA), is a liquid medication injected into the deep dermis via cannula or needle focusing on even spread, safety, and treatment comfort. Optimal treatment areas include facial zones that are primarily immobile, such as the areas under the cheekbones, the lower marionette zones, the temples, and the nasal aperture (hollowing by corners of the nostrils). Moderate swelling and redness are common post-treatment, reducing within hours. Clients return to regular activities on the day of treatment. 
Sculptra before and after
Treatment Photos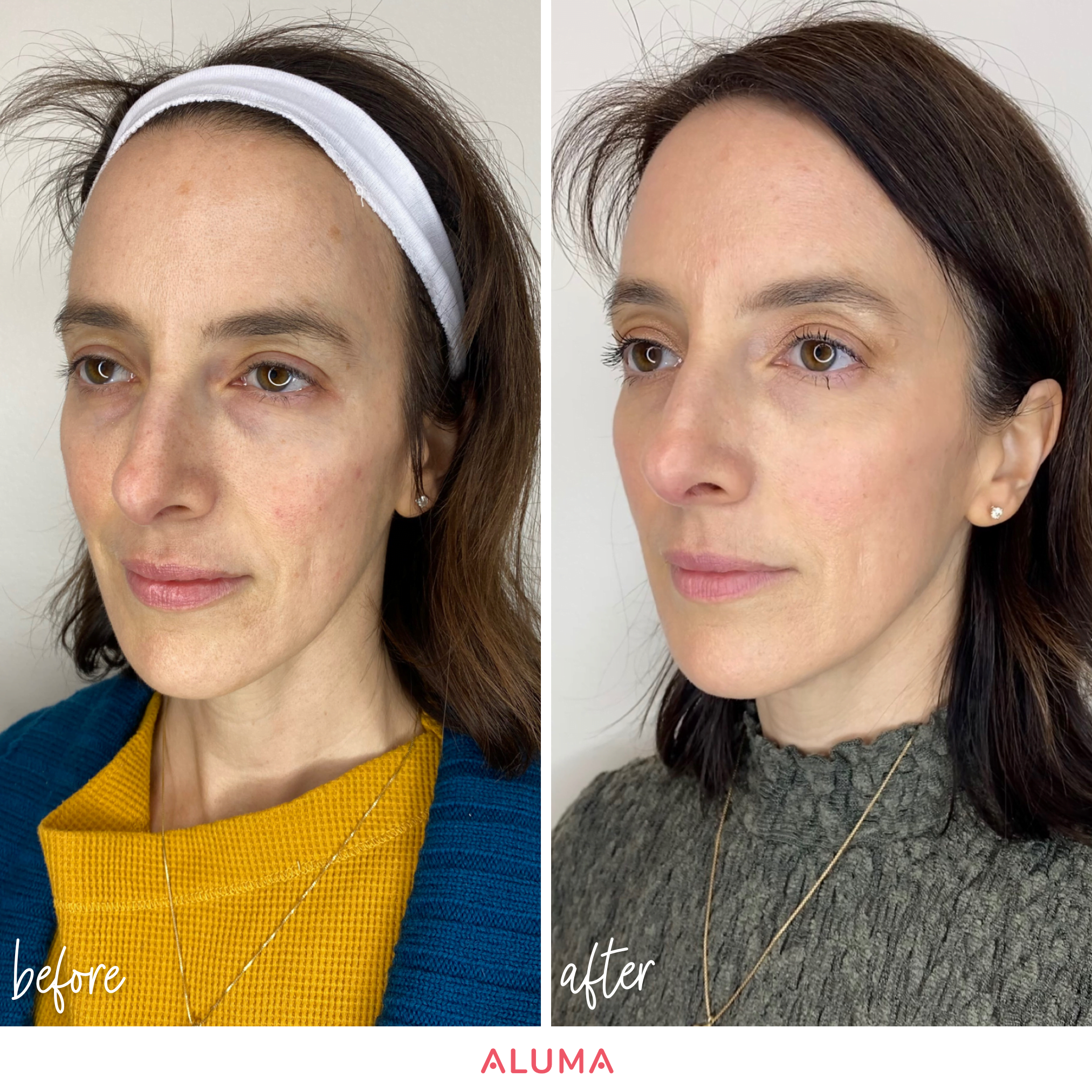 How much does a Sculptra treatment cost?
The average cost of Sculptra is $1,000 a vial.
How long does Sculptra last?
The results from Sculptra are not permanent. However, they will last longer than a dermal filler, usually around 24 months, wearing off gradually from there.
Sculptra injection sites, what are the optimal facial areas?
Sculptra is best for tightening the skin surface of the lower face (crepey skin) and softening the nasolabial folds and marionette lines. Most of our clients receive Sculptra lower face injections. In addition, Sculptra to temples, Sculptra to lift jowls, and Sculptra to neck area are common treatments. 
What is the downtime associated with Sculptra treatments?
There is little to no downtime with Sculptra treatments. Patients can return to regular activities the next day. Slight redness, tenderness, bruising, and swelling near the injection site can happen but will dissipate over the next few days.
Is Sculptra a dermal filler?
Technically, Sculptra is a biostimulator, not a dermal filler. It has no volume of itself; it comes in a powder form and is reconstituted with water for injection. Similar to a fertilizer, it stimulates collagen production over time, about 3-4 months. The newly formed collagen, type 1 and 3, adds volume and support to the face for an overall refreshed appearance.
Can Sculptra be dissolved?
Since Sculptra is inherently a liquid medication that stimulates your body to create collagen, it adds natural volume and cannot be dissolved with hylenex like a dermal filler. After injections, swelling from the water content in the injection is common but depletes to baseline after three days. In two months, an increase in volume, skin tenacity, and a decrease in nasolabial folds occurs. 
Many think Sculptra is a specific type of dermal filler product, but it is not. It is a bio-stimulatory molecule that activates collagen production in the deeper skin tissue, restoring lost tissue support and volume. As we age, our body's collagen production and content decrease. In fact, by age 45,…
Patients of all ages visit Aluma to pump the brakes on aging. Some are concerned with tear troughs, others jowls. Understanding and treating the underlying cause of the undesirable symptom leads to more natural and beautiful results. As a patient, the Layers of facial aging are important to know. Over…
At Aluma, we believe ideal aesthetic outcomes are grounded in skillful observation and an artistic appreciation of light and shadow, symmetry and proportion, and the overall harmony of facial features. We look for the subtle changes and asymmetries created in the face by aging. Then, after clarifying your priorities,
Ready to Book
We cannot wait to welcome you in!